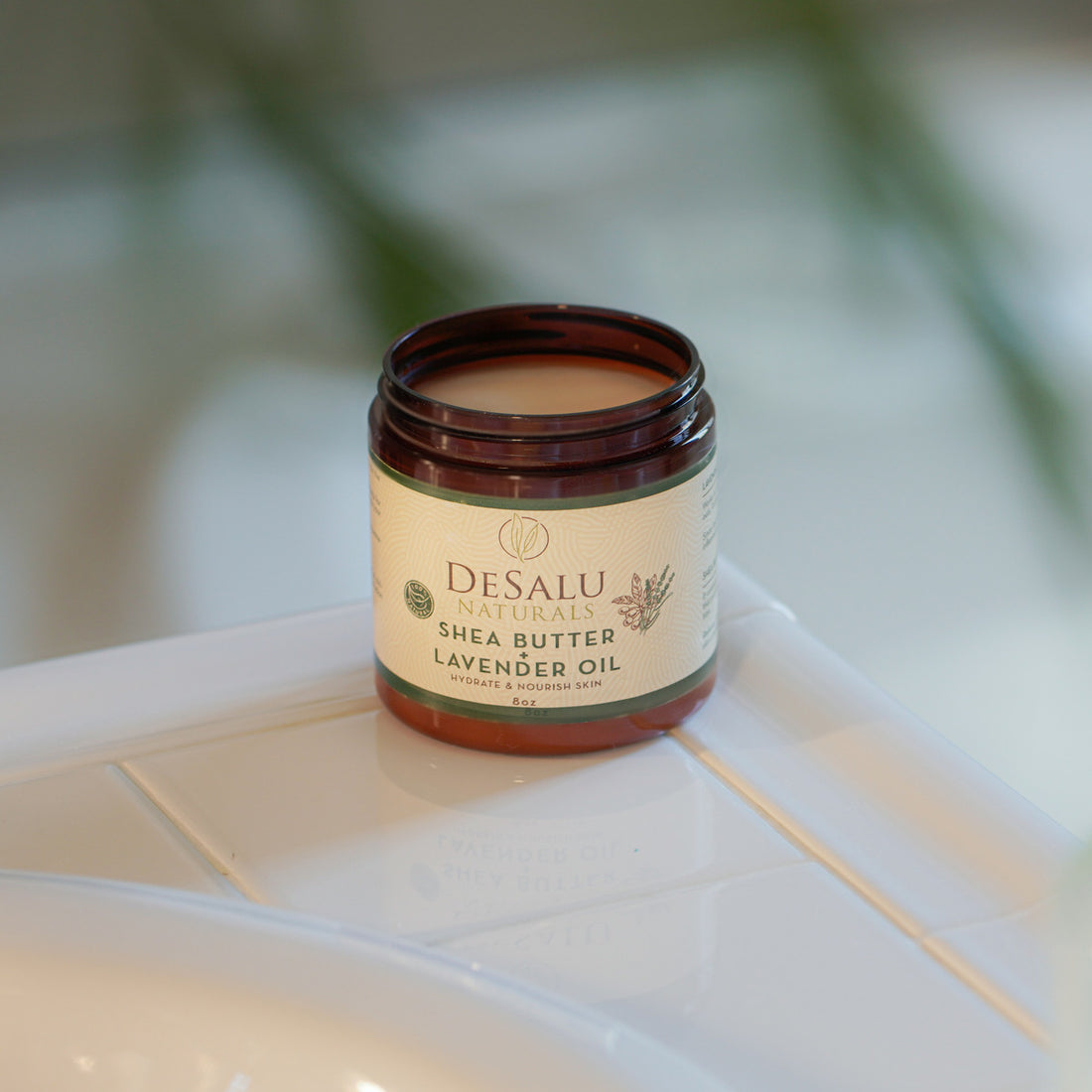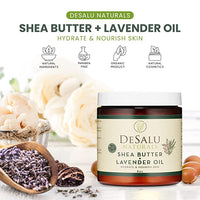 Desalu Naturals Pure African Shea Butter with Lavender Oil.
Introducing Shea Butter with Lavender Oil: A Natural Infusion for Beautiful Skin 
Sensitive skin? Dry Skin? We can help you with that. Natural shea butter - an oil rich in fatty acids using the most nutritious nuts on the African continent - lavishes your skin with a combination of incredible nutrients on contact. Vitamins A and E found in 100% shea butter keep the skin supple, nourished, and radiant. The collagen content of shea butter for skin works as essential protein building blocks to restore skin elasticity and add youthful plumpness to your skin. And better yet? You'll even have some UV protection once you've finished applying your butter. 

We haven't even got on to lavender oil yet! This essential oil helps to keep your pores unclogged when applied - perfect to kill bacteria to help prevent and treat acne and eczema breakouts! This antioxidant powerhouse will also protect against free radical damage affecting collagen production and reduce skin inflammation.

Discover what our customer love about shea butter with essential lavender oil:

✓ Long-lasting skin moisture for an all-day glow

✓ Helps prevent and treat outbreaks of eczema
✓ Noticeably decrease in the appearance of fine lines and wrinkles after regular use
✓ Reduces the appearance of dark spots and helps treat hyperpigmentation
All the beauty you need in one jar
Are your cabinets cluttered with half-used beauty products? It's time for a spring clean! With shea natural body butter for your skin, you'll have the perfect daily skin routine. Ready to discover the benefits of shea butter and lavender oil for your skin? Scroll up and hit the 'Buy Now' button.

Key Features
GREAT FOR ALL SKIN TYPES: Sensitive, dry, damaged, and more. Shea butter is the perfect solution for all skin types.

 
SKIN CARE USES: Shea butter is the perfect solution for all skin types. Unrefined shea butter works great for skin rashes, face, feet, heels, elbows, hands, dry skin, eczema, psoriasis, callouses, stretch marks, scars, blemishes, burns, blisters, sunburn, skin peeling after tanning, and much more.
SHEA BUTTER FOR YOUR SKIN: Looking for a natural way to achieve a beautiful complexion? Deriving from Africa, pure shea butter with lavender oil contains a diverse selection of vitamins and minerals that will leave your skin hydrated, refreshed, and glowing - all without a chemical in sight!

 
MOISTURIZE, NOURISH & REPAIR: Cold winters months sapping the vitality out of your skin? Warm weather leaving your skin flaky and dry? Raw shea butter helps to nourish and protect your skin against environmental stressors year-round. The collagen content in shea butter helps to rebuild the structure of the skin; think nature's alternative to a trip to the dermatologist's office!

 
GIVING BACK: When you choose Desalu Naturals, you are not only choosing a great product, You are contributing to a commitment to allow us to give back to families living in impoverished communities in Africa; this is an honor we humbly receive. Desalu Naturals pledges 10% of quarterly profits to aiding families living in impoverished communities.
DESALU NATURALS IS A UNIQUE SOLID FORMULA. OUR PRODUCTS ARE ALL NATURAL AND MADE WITH LOVE. WITH HIGH TEMPERATURES, IT IS POSSIBLE THAT YOUR PRODUCT WILL MELT. IF IT DOES MELT, PUT IT IN THE REFRIGERATOR. THE QUALITY OF THE PRODUCT WILL NOT CHANGE.