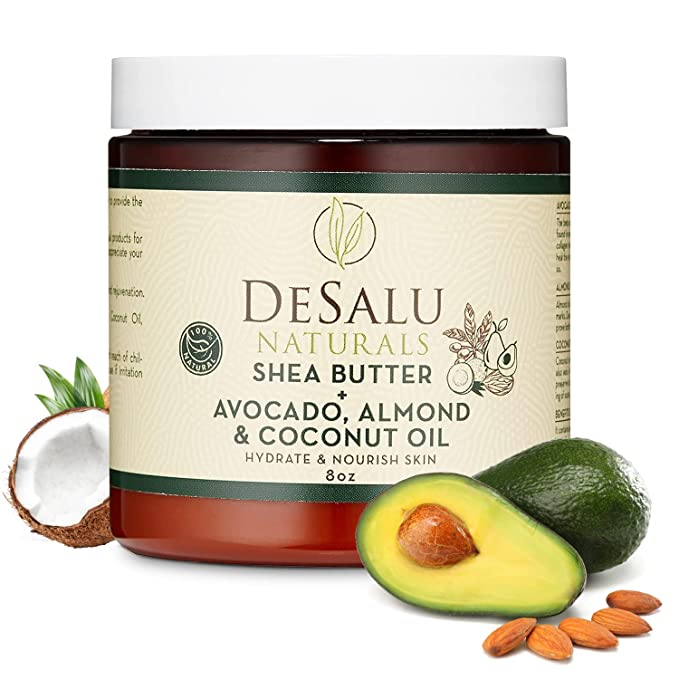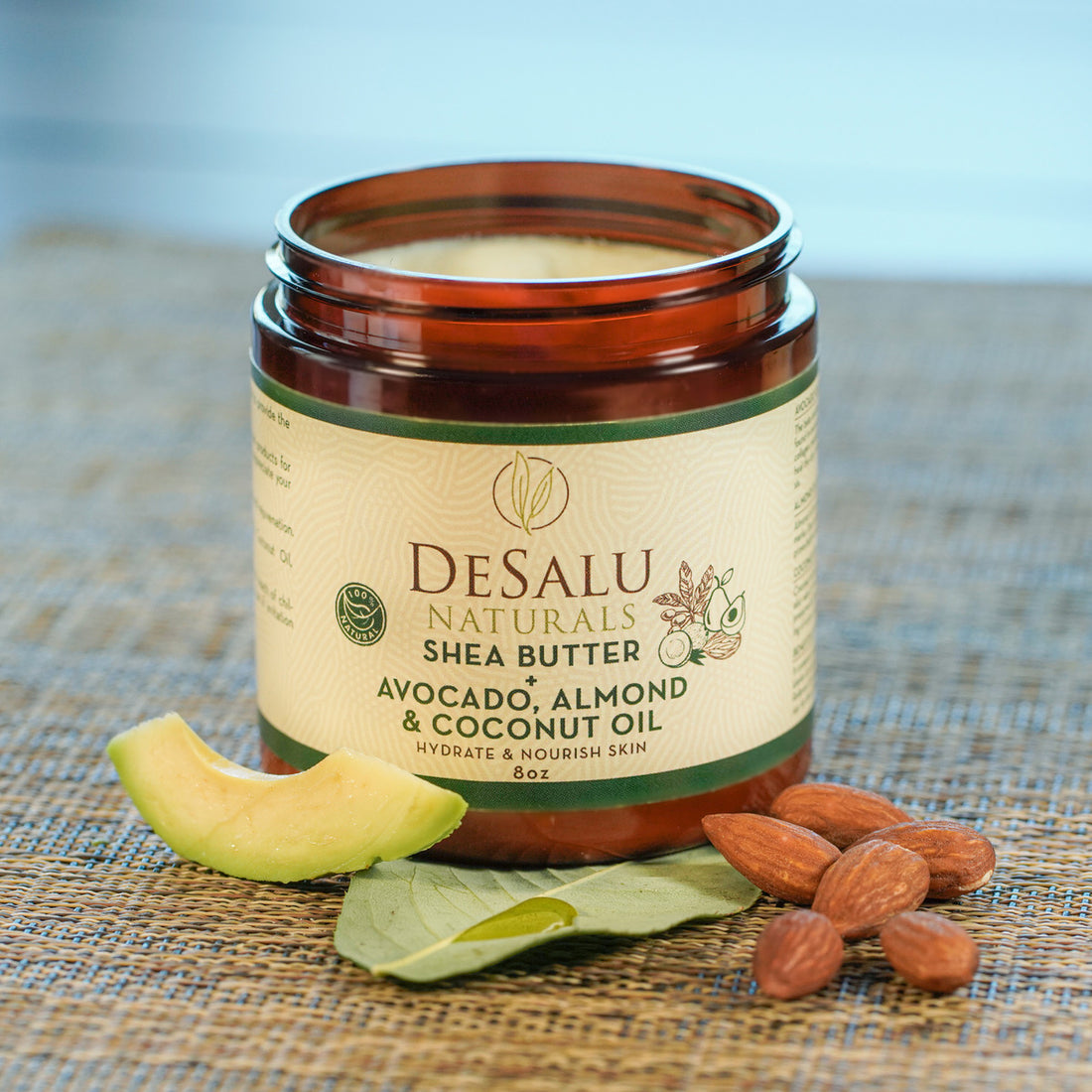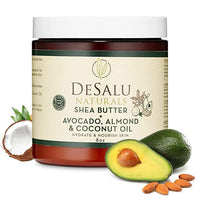 Desalu Naturals Pure African Shea Butter with Avocado Oil, Almond Oil & Coconut Oil: Unscented
Meet the Key to Healthy, Youthful-looking Skin
Do you think that all shea butters are the same?

No. So, what makes ours any different? Desalu Naturals is nothing but unrefined, pure shea butter that retains 100% of its miraculous healing ability. And better than that? It loves all skin types! But we haven't stopped there…

dry, itchy, stressed-out skin is thirsty for deep nourishment and hydration. And yes, it gets plenty of moisture and protection from the Vitamins A and E, naturally present in our all over body shea butter. However, we've infused it with three of the most powerful anti-aging and anti-inflammatory oils - Avocado Oil, Almond Oil, and Coconut Oil - to give your skin a revitalizing boost. You can learn more about these three healing wonders below.
Discover more of our nourishing ingredients

Avocado Oil: Enriched with skin-healing antioxidants and omega-3, Avocado oil moisturizes skin, speeds up wound healing, and relieves inflammation from eczema and psoriasis.

Almond Oil: Reduce the appearance of dark spots, scars, and stretch marks to achieve a brighter, healthier, youthful complexion. Daily application to your hair will leave your locks soft, full, and shiny. 

Coconut Oil: This antibacterial oil reduces inflammation, battles acne, and helps repair your skin's natural barrier. It traps moisture in your skin, keeping it hydrated for longer. 

Key Features
SKIN CARE USES: Shea butter is the perfect solution for all skin types. Unrefined shea butter works great for skin rashes, face, feet, heels, elbows, hands, dry skin, eczema, psoriasis, callouses, stretch marks, scars, blemishes, burns, blisters, sunburn, skin peeling after tanning, and much more.
100% RAW UNREFINED SHEA BUTTER: Soften your skin with an all-natural body butter. Our smooth texture rapidly soaks into your skin - without leaving it oily or clogging up pores. The antioxidant-rich vitamins, A and E, soothes dry patches, protects skin cells, and improves skin elasticity. The result is firm, supple skin.
EFFECTIVE INGREDIENTS: What makes our face & body moisturizer the best solution for you? It's infused with 3 ultra-soothing ingredients - Avocado oil, Almond oil, and Coconut oil. These powerhouses can help boost collagen production, delay signs of aging, and heal dry, irritated skin.
GIVING BACK: When you choose Desalu Naturals, you are not only choosing a great product, You are contributing to a commitment to allow us to give back to families living in impoverished communities in Africa; this is an honor we humbly receive. Desalu Naturals pledges 10% of quarterly profits to aiding families living in disadvantaged communities.
DESALU NATURALS IS A UNIQUE SOLID FORMULA. OUR PRODUCTS ARE ALL NATURAL AND MADE WITH LOVE. WITH HIGH TEMPERATURES, IT IS POSSIBLE THAT YOUR PRODUCT WILL MELT. IF IT DOES MELT, PUT IT IN THE REFRIGERATOR. THE QUALITY OF THE PRODUCT WILL NOT CHANGE.