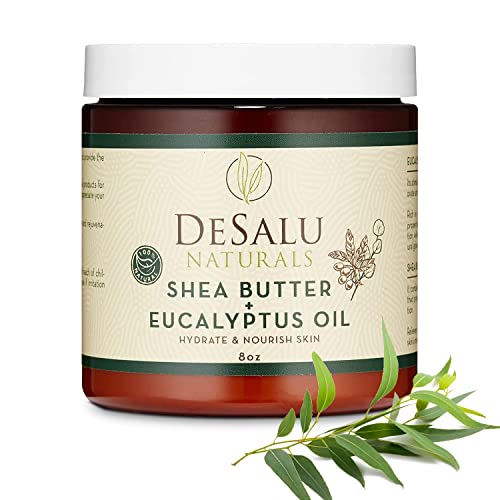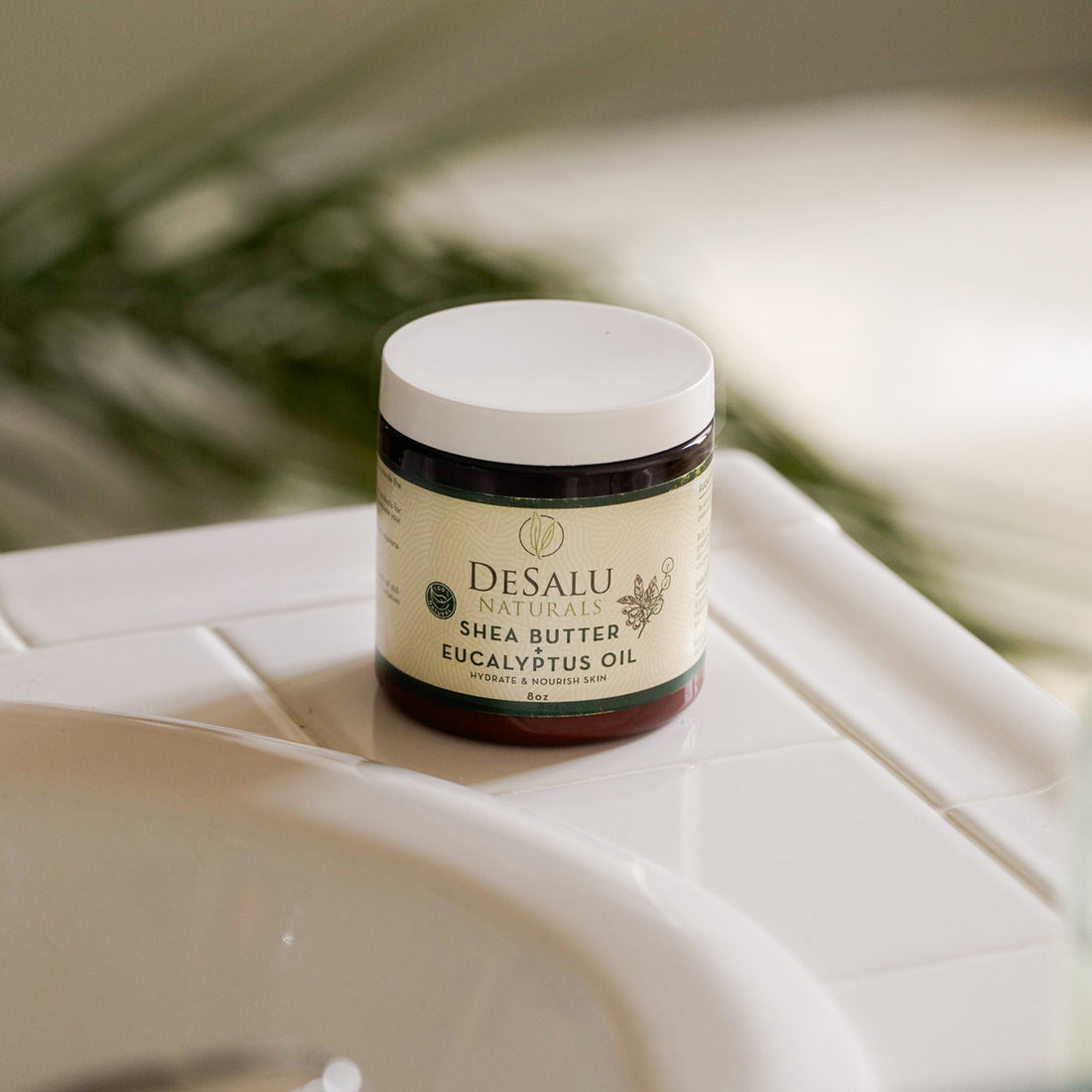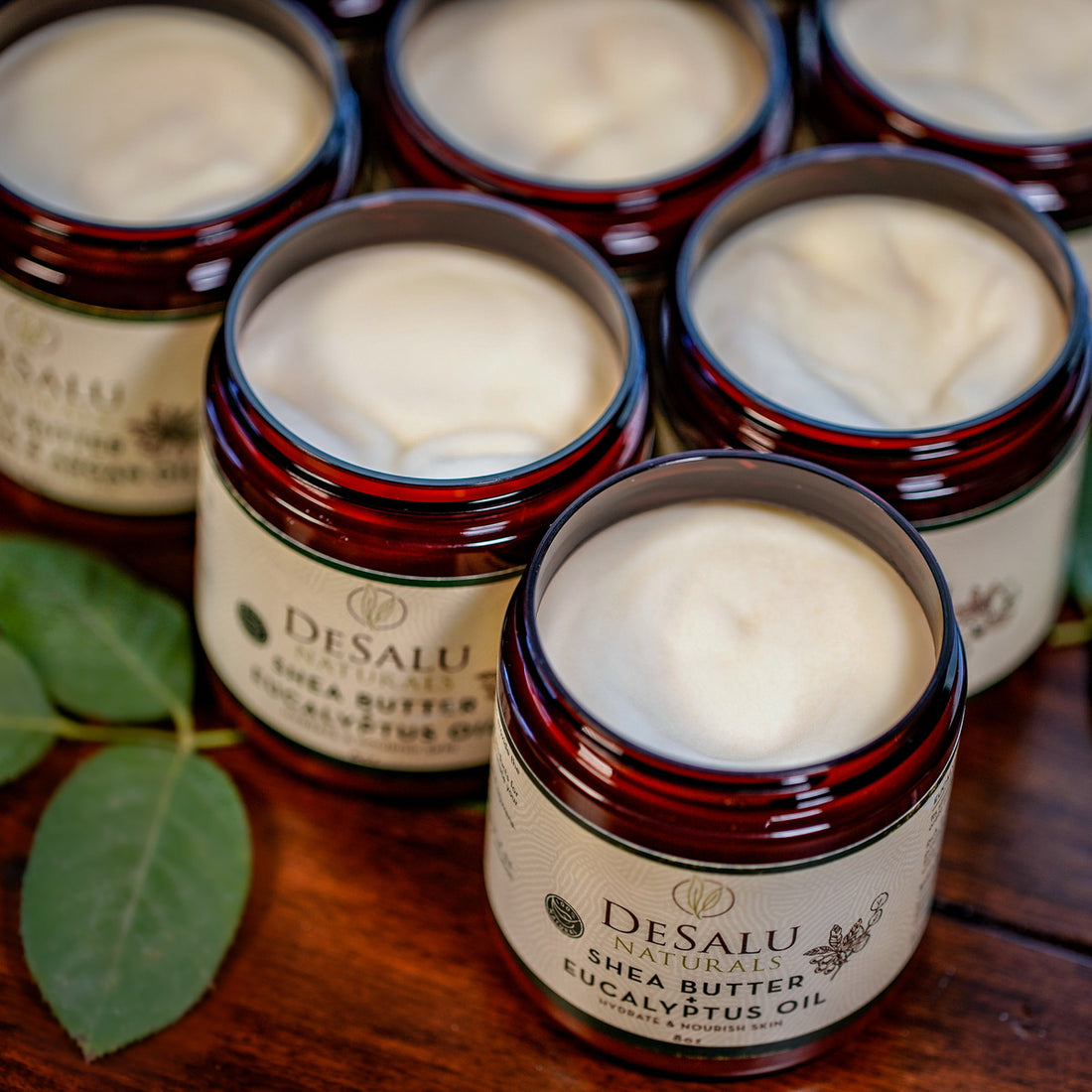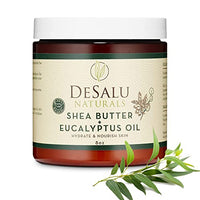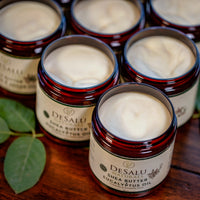 Desalu Naturals Pure African Shea Butter with Eucalyptus Oil
Experience Glowing Skin By Using Shea Butter with Eucalyptus Oil
We've reunited these two ingredients to deliver you a raw African shea butter that will rejuvenate, repair, and protect your skin. The downside? You won't have the potent fragrances from chemically infused products. The upside? All skin types can enjoy the feeling of moisturized skin, packed with vitamins and nutrients, as you go about your day glowing with a youthful and healthy complexion!   

Find out why customers love their shea butter with essential eucalyptus oil:
✓ Instantly smooth and hydrated skin
✓ reduces redness and swelling on skin application 
✓ Does not leave a greasy residue when applied to the skin and hair
Psst...We've Got Some More Benefits for You!
Thought we had run out of benefits for shea butter and eucalyptus oil? Here's a few more for you:
Stimulate your scalp with eucalyptus oil: Apply to minimize dandruff, increase hair elasticity, and keep your hair looking fantastic!

 
Relieve sunburn: A little too long in the sun? Eucalyptus has a natural cooling sensation on your skin. The antibacterial properties will also protect your skin from infection!

 
Reduce stretch marks: Prevent and reduce the appearance of stretch marks with a small daily application.
Key Product Features
DESALU NATURALS IS A UNIQUE SOLID FORMULA. OUR PRODUCTS ARE ALL NATURAL AND MADE WITH LOVE. WITH HIGH TEMPERATURES, IT IS POSSIBLE THAT YOUR PRODUCT WILL MELT. IF IT DOES MELT, PUT IT IN THE REFRIGERATOR. THE QUALITY OF THE PRODUCT WILL NOT CHANGE.
SKIN CARE USES: Pure Unrefined African shea butter works great for skin rashes, face, feet, heels, elbows, hands, dry skin, eczema, psoriasis, callouses, stretch marks, scars, blemishes, burns, blisters, sunburn, skin peeling after tanning, and much more.
TONE, CONDITION & SOOTHE YOUR SKIN WITH SHEA BUTTER: Moisturize and enrich your skin with each application of natural shea butter. The contents of raw shea butter helps restore youthful elasticity to your skin and reduce the appearance of wrinkles. You'll be able to watch as your skin quickly absorbs the shea butter and leaves your skin with a noticeable glow!
EUCALYPTUS OIL SKIN BENEFITS: Eucalyptus oil can help you with soft skin. Thanks to the eucalyptus combined with shea butter it offers you incredible healing and soothing properties. Soften your skin with shea butter and eucalyptus oil.
GIVING BACK: When you choose Desalu Naturals, you are not only choosing a great product, You are contributing to a commitment to allow us to give back to families living in impoverished communities in Africa; this is an honor we humbly receive. Desalu Naturals pledges 10% of quarterly profits to aiding families living in disadvantaged communities.