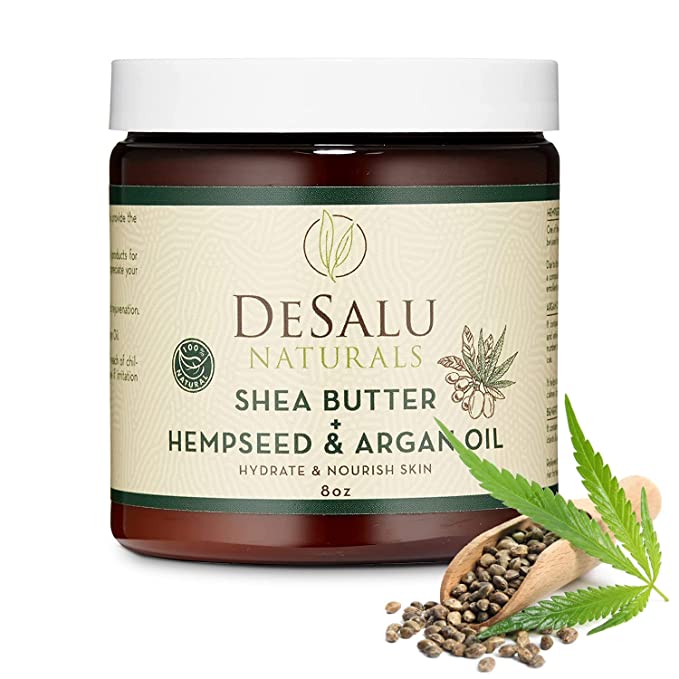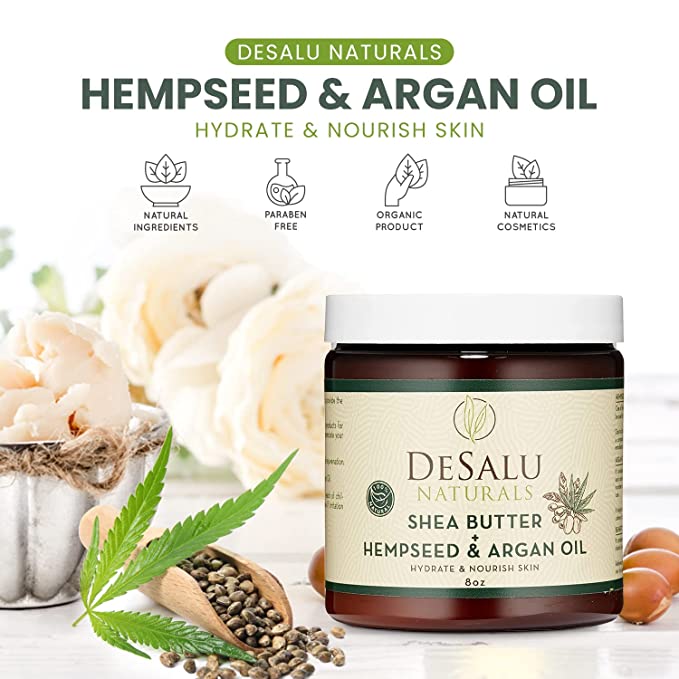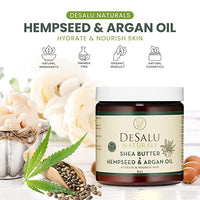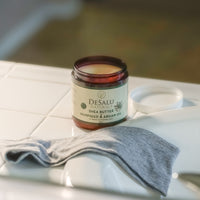 Desalu Naturals Pure African Shea Butter with Hemp Seed Oil & Argan Oil: Unscented
Meet the Key to Healthy, Youthful-looking Skin
Do you think that all shea butters are the same? 

No. So, what makes ours any different? Desalu Naturals is nothing but unrefined, pure shea butter that retains 100% of its miraculous healing ability. And better than that? It loves all skin types! But we haven't stopped there…

Your dry, itchy, stressed-out skin is thirsty for deep nourishment and hydration. And yes, it gets plenty of moisture and protection from the Vitamins A and E, naturally present in our body shea butter. However, we've infused it with two of the most powerful anti-aging and anti-inflammatory oils - Hemp Seed Oil and Argan Oil - to give your skin a revitalizing boost. You can learn more about these two healing wonders below.
Hemp Seed Oil: Do you suffer with rough, flaky skin? This skincare phenomenon effectively calms acne, soothes inflammation, softens dry hair, and reduces wrinkles. You could say it's the key to smooth, supple, radiant skin and gorgeous, healthy locks.
Argan Oil: Loaded with nutrient-rich vitamins, this potent seed reduces scars, stretch marks, wrinkles, and redness - perfect for inflammatory skin conditions like psoriasis. As it restores the skin elasticity, your skin is left hydrated. And your hair? Silky and glossy!

Kind to All Skin Types

Are you looking for a gentle eczema shea butter? One that won't irritate your skin or lead to breakouts? Massage on our shea butter and instantly feel it melt into your skin as it softens your hands, feet, face, and hair. 

Rejuvenate your skin now!

Key Features
MOISTURIZE & REJUVENATE YOUR SKIN: Say goodbye to dry, flaky skin! Our shea butter moisturizer floods your skin with the intense moisture and nourishment it craves. Slather it on and feel immediate relief from acne, eczema, and psoriasis. Vitamins A and E protect and repair your skin cells, while leaving it beautifully soft and radiant.
100% RAW UNREFINED SHEA BUTTER: Replenish your hair and skin without using chemicals. Because of its purity, our Africa shea butter preserves all of its natural goodness, pleasant nutty aroma, and incredible healing properties. Best of all, it rapidly penetrates into skin, soothing dryness, burns, and injuries. Oh, and it never clogs pores.
HEAL WITH HEMP SEED OIL & ARGAN OIL: Give your skin an invigorating boost of antioxidants. Hemp Seed Oil - a fantastic natural emollient - improves skin elasticity, soothes dry skin, reduces wrinkles, and helps reverse the signs of aging. With its powerful anti-inflammatory and anti-sebum effects, Argan oil soothes skin conditions, boosts hydration, and reduces breakouts. What more could your skin want?
SAFE FOR ALL SKIN TYPES: Dry, chapped, or sun damaged skin? Sensitive or acne-prone? Our shea butter cream for skin and hair loves all types of skin.

 
GIVING BACK: When you choose Desalu Naturals, you are not only choosing a great product, You are contributing to a commitment to allow us to give back to families living in impoverished communities in Africa; this is an honor we humbly receive. Desalu Naturals pledges 10% of quarterly profits to aiding families living in impoverished communities.
DESALU NATURALS IS A UNIQUE SOLID FORMULA. OUR PRODUCTS ARE ALL NATURAL AND MADE WITH LOVE. WITH HIGH TEMPERATURES, IT IS POSSIBLE THAT YOUR PRODUCT WILL MELT. IF IT DOES MELT, PUT IT IN THE REFRIGERATOR. THE QUALITY OF THE PRODUCT WILL NOT CHANGE.